The Group of Seven
Last weekend I went to an art gallery to see the paintings of "the group of seven".
In 1920, J.E.H. MacDonald, Lawren Harris, A.Y. Jackson, Arthur Lismer, Franklin Carmichael, F.H. Varley and Frank Johnston officially formed this now famous group. These were painters bitten by the Canadian north who, for the first time, took on the task of painting the great power, scenery and spirit of their land.
This truly Canadian art movement was started, not by professional painters, but by a loose association of acquaintances who travelled north from Toronto on their vacations to paint and relax. The modern Canadian so-called "school", was inspired as the result of a direct contact with nature itself.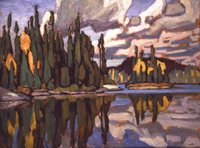 As an "outpost" of culture, Canadians followed the rules of the European art world. Canadian art authorities did not believe that our rough landscape was fit subject matter for art. "It's bad enough to live in this country," an old lady once told A.Y. Jackson, "without having pictures of it in your home." This, and the attitude that pine trees were unpaintable, slowly began to change.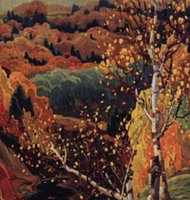 The dawn of the new "nationalism" or "modernism" in Canada began in every form. It was a movement of life and not restricted to schools of art nor methods of painting.
Since Canadian confederation in 1867, we were involved in an era of re-evaluation in art, science, religion and life itself. This evaluation was slow, but necessary to develop a "concept of self" for this young nation.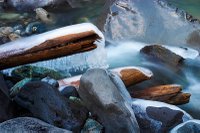 Members of the Group of Seven consciously expressed this nationalistic philosophy in their paintings and many written articles. Arthur Lismer once stated that "It is necessary that as Canadians we should believe we are capable of producing great art as we believe we are capable of doing great deeds."
By popularizing the concept of an art founded on the Canadian landscape, they gave many Canadians a sense of national identity and enabled them to discover the beauty of their own country.
The significance of what I saw at the gallery on Saturday was that I realized I was on the best "date" of my life so far.